HELPING INDIVIDUALS
"BRIDGE THE GAP"
TO REACH FINANCIAL STABILTY, HEALTHY OUTCOMES AND EDUCATIONAL SUCCESS.
Bridging the Gap to the challenges facing families and individuals in the region, such as poverty, hunger, and lack of access to quality education and healthcare, we provide a hand up to create a more resilient community where everyone can thrive. Living united, we bridge the gap to a better life for families, friends, and neighbors for generations to come.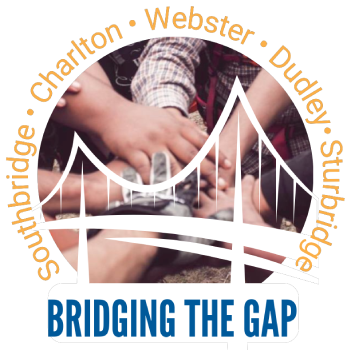 $120,000 to the Boys & Girls Club of Webster & Dudley
$70,000 to the YMCA of Central MA
$40,000 to Catholic Charities
$35,000 to Tri-Valley, Inc.
$10,000 to Literacy Volunteers of SCM
$20,000 to the CASA Project
$20,000 to St. Luke's Guesthouse
$15,000 to WCAC Head Start 
$12,000 to Community Legal Aid
Previous
Next
The United Way of South Central MA supports local agencies that provide health, education, and financial stability services that profoundly affect the lives of those who live and work in the towns of Charlton, Dudley, Southbridge, Sturbridge, and Webster.
BOYS' & GIRLS' CLUB OF WEBSTER-DUDLEY - www.bgcwebsterdudley.org
(508) 943-0037
School Aged Child Care Program
BOYS SCOUTS OF AMERICA - HEART OF NEW ENGLAND COUNCIL  - www.heartofnewenglandbsa.org
(978) 534-3532
Summer Camp Program for Youth in South Central MA
CARE CENTRAL VNA & HOSPICE, Inc. – www.carecentralvnahospice.org
(508) 943-0612
CASA PROJECT, Inc. - www.thecasaproject.org
(508) 757-9877
CASA Child Court Advocacy Volunteers
CATHOLIC CHARITIES - www.ccworc.org
(508) 765-5936
Emergency Stabilization and Homelessness Prevention Program
CENTER OF HOPE FOUNDATION, Inc. – www.thecenterofhope.org
(508) 764-4085
COMMUNITY LEGAL AID – www.communitylegal.org
(855) 252-5342
South Worcester County Legal Assistance Project
FRIENDS OF ST. LUKE'S – www.stlukesguesthouse.wordpress.com
(774) 230-6416
St. Luke's Guesthouse - Homeless Shelter for men, women and children
GIRL SCOUTS OF CENTRAL AND WESTERN MASSACHUSETTS - www.gscwm.org
(508) 365-0115
Girl Scout Leadership Experience
GUILD OF ST. AGNES - www.guildofstagnes.org
(508) 847-9002
Behavioral Health counseling for pre-school aged children
LITERACY VOLUNTEERS OF THE SOUTH CENTRAL MA – www.lvscm.org
(508) 765-3880
English for Speakers of Other Languages (ESOL)
LUK CRISIS CENTER, Inc. - www.luk.org
(978) 345-0685
NEW HOPE, Inc. - www.new-hope.org
((508) 226-4015
Southern Worcester County Violence Prevention Project and Counseling
OLD STURBRIDGE VILLAGE – www.osv.org
(508) 347-0216
Learning Through Experience (LTE) Program
OPEN SKY COMMUNITY SERVICES - www.openskycs.org
(508) 755-0333
South County Recreation Program

South County Homeless Assistance Program (SCHAP)
OPENING THE WORD PEER RECOVERY – www.openingthewordwebster.com
(508) 330-8073
Support and resources for individuals living with substance use disorder.
OUR BRIGHT FUTURE, Inc. - www.ourbrightfutureinc.org
(774) 578-5111
Afterschool Enrichment; Homework Help, Sports and Robotics Program
PATHWAYS FOR CHANGE, Inc. - www.pathwaysforchange.help
(508) 852-7600
Sexual Assault Youth Education Program
RECONCILLATION HOUSE, Inc. - www.reconciliationhouseinc.com
(508) 330-8073
Resident Transitional Support
TRI-VALLEY, Inc. - www.trivalleyinc.org
(508) 949-6640
Nutrition Program (Meals on Wheels and Community Dining)
WORCESTER COMMUNITY ACTION COUNCIL - www.wcac.net
(508) 754-1176
Social Emotional Wellness Program
YMCA of Central MA—TRI-COMMUNITY FAMILY BRANCH - http://www.ymcaofcm.org/locations/tri-community-family-branch/
(508) 765-5466
Out of School Time and Camp Foskett Programs

What's for Dinner Program

Y Teen Leaders Program
MASS 2-1-1 – www.mass211.org
(877) 211-6277
24 Hour service that connects people who need vital resources in their community.